How to extract the calendar from an OST file? Process Simplified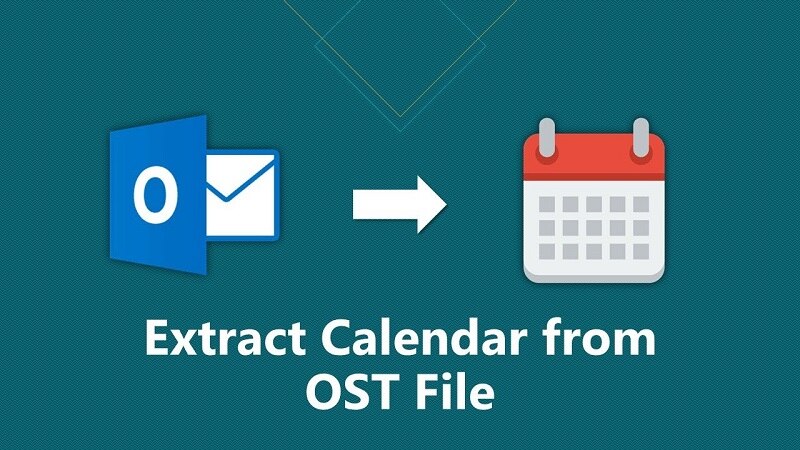 It is easy to access Exchange data through Microsoft® Outlook emailing application by configuring it with an Exchange account. However, in several situations, you need to save only Calendar data in a separate file. Check this situation – Suppose you work in an organization and there is an urgent requirement to view and share your calendar events from your Exchange mailbox. To sort out this need, you want to extract only calendar data from your OST file and save it in a file format which you can easily access.
To fulfill this requirement, there are some feasible solutions via which one can extract calendar from the OST file. But before that, it is important to know how to access calendar from an OST file through Exchange Server connection.
How to Access Calendar from the OST File?
To view Calendar information from the Exchange OST file, MS Outlook must be synchronized with the Exchange and here is the process to do that:
First close your Microsoft Outlook application.
Then, Go to Control Panel >> Mail option.
Click 'Mail' tab, then choose the Exchange account and click on 'Change' option.
After this, unselect the 'Use Cached Exchange Mode' option and click 'More Settings' option.
Next, switch to the 'Advanced' tab and click on 'Offline Folder File Settings' option.
Click on 'Disable Offline Use' option and click 'Yes' to continue.
Again, click 'Offline Folder File Settings' and click 'OK'. Click on 'Yes' to continue.
Choose the option 'Use Cached Exchange Mode' and click 'OK'. After that, click 'Next' and immediately click 'Finish'.
Close all the opened dialogue boxes.
Start MS Outlook client and go to the Calendar section of OST mailbox to view it.
Download Outlook OST/PST Extractor to Extract Outlook Calendars, Contacts, Attachments & Email Address
How to extract calendar data from the Exchange OST file?
A manual process is available to extract Calendar data from an OST file and save into PST file. Use Import/Export feature in MS Outlook application. Make sure that OST file is healthy before starting with the extraction of data from it. Here are the steps to extract data from OST file:
Start Outlook application. Navigate to File < Open & Export < Import/Export.
Click 'Export to a file' option and then click 'Next'.
Choose Outlook Data File (.pst) as an option and click 'Next'.
Select Calendar folder from the retrieved folders of the OST file and choose 'Include all subfolders' option. Click 'Next'
Using Browse option and provide the saving location of PST file to which the Calendar folder will be exported. Click 'Finish'.
This will lead to have an OST file calendar extracted to a portable PST file at the specific location which you can load or import to the Outlook account to access it.
Drawbacks of using Manual Utilities:
If you use manual process an extra process of Outlook switch from working Offline to Online or vice versa process for OST file extraction is included. You can perform this process if OST file is healthy otherwise can't. In the opposite situation, you first need to recreate the OST file and then carry out the extraction. In addition, the Exchange Server should also make available and you should have the original Outlook profile. It can't be performed with offline OST files or orphaned OST files. To extract OST data and save into a convenient format would be a comfortable option. In some of the stances, users have orphaned OST files which can't be accessed due to unavailability of Exchange connection or profile credentials. But there is possibility to extract data with a professional tool. It is quite important to select the right OST to PST Converter for busy users. We suggest you OST to PST Converter.
This software data recovers from corrupt, damaged, inaccessible or orphaned OST files and moves it to PST, Exchange, Office 365 and various destinations. The software converts OST to PST smartly even without MS Exchange connection. Check the steps of the software:
Start OST to PST Converter tool.
Browse and add OST file for export or conversion. Click 'Next'.
Choose the Calendar folder from the retrieved mailbox folders, preview the item you need and click 'Next'.
Click on 'Save' option and select PST from the list. Click 'Next'.
Apply 'Filter' options as per the requirement.
Save the converted PST file and click 'Finish'.
The saving process will end shortly.
Thus, accessing and extracting OST data is quite easier via advanced tool without data risk.
Conclusion:
You can export OST calendar to PST using manual/native tools which is a little tedious task. The specialized third-part tools can export calendars from OST to PST even if the OST file is inaccessible.
---