How To Find MS Exchange Server Address?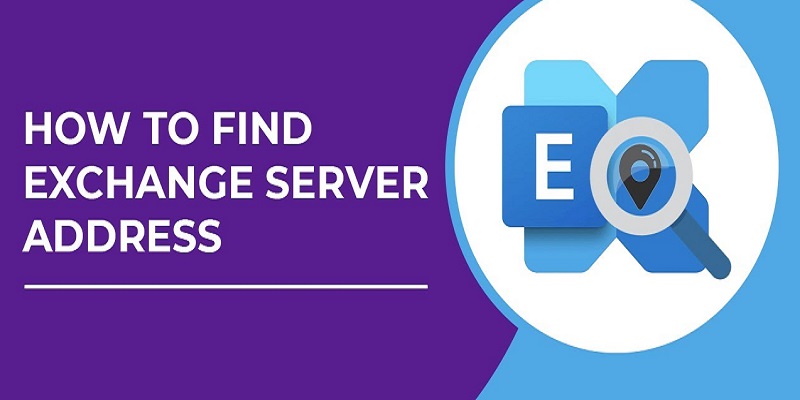 MS Exchange Server aims at handling the significant amount of business data and provides emails in a trouble-free manner. However, when there is a trouble in working of Exchange server, then Outlook users look for some solution like creating a new Outlook profile. IN many situations, they need to know the Exchange Server address too. In the given blog, we will discuss how to find MS Exchange Server address and also find out few methods to sort out the common connectivity issues.
Find Exchange Server Address
First launch Microsoft Outlook. When Outlook has an active connection with Exchange Server, then it shows the status as 'Connected To: Microsoft Exchange.'
Click 'File' option on the menu.
Click 'Account Settings'<< 'Account Settings'.
Choose select the Exchange Account with the Server name which you want to check and click 'Change'.
Go to the Server Settings section and you can access the full name of your MS Exchange Server.
After accessing MS Exchange server address, fix the issues with incoming/outgoing messages. But there are some situations, where MS Outlook can't connect with Exchange Server and resultantly, you look for some solution to eradicate the problem.
Let's find some methods which a user can perform independently without Exchange Administrator.
Restart MS Outlook
This is the simplest method to sort out connection issue. First restart the Outlook but if fails to work then restart your computer. Many a times, when internet connection is slow, the connection with Outlook and Exchange Server fails to establish. Thus, restarting Outlook sometimes fix the connection issue due to slight connection problems. In case, restarting Outlook does not help, move to another method.
Disable the Offline Mode
Usually, users set Outlook in offline mode and it stops sending/receiving emails. So, disable this option and try to connect Outlook with Exchange. Follow the below given steps to disable offline mode:
Click the Send/Receive option.
Click Work Offline button.
The Outlook status will change to 'Trying to Connect' from 'Offline.' Shortly, it will show the status as 'Connected To: Microsoft Exchange.'
Run a repair installation
Run the repair installation from the control panel to sort out the connection issues.
First close MS Outlook application and go to Control panel.
Then, click Programs and Features.
Choose Microsoft Office and click Change.
Click Repair and then choose Continue.
Restart your computer after the repair process comes to an end.
Lastly, run Outlook and check the status.
Recreate OST file
As OST file stored on local computer, there are higher chances of its corruption due to malware or hardware issues. A corrupted OST file doesn't allow Outlook to work with Exchange server. So, recreate OST file again, and it may solve the connection issue in MS Outlook. Follow the steps given below:
Go to Control Panel, choose the Mail option.
Then, click the E-mail Accounts option.
Choose your account and click Open File Location.
Select OST file and right-click it
The, choose the Delete option.
Again start MS Outlook. It will recreate the OST file and you can connect with MS Exchange Server.
Use Scanpst tool to retrieve damaged PST file
MS Outlook provides a default scanning tool named scanpst.exe which recovers the PST file from corruption issues. With this tool, you can scan PST file and check the errors. Moreover, it will prompt you to fix the errors in case of corruption.
The Inbuilt- Scanpst utility is available at the following location:
Outlook 2007 – C:\Program Files (x86)\Microsoft Office\Office12
Outlook 2010 – C:\Program Files (x86)\Microsoft Office\Office14
Outlook 2013 – C:\Program Files (x86)\Microsoft Office\Office15
Outlook 2016 – C:\Program Files (x86)\Microsoft Office\root\Office16
Outlook 2019 – C:\Program Files (x86)\Microsoft Office\root\Office16
In the Nutshell:
When Outlook fails to connect with Exchange server due to severe corruption in the data file, then depending in only manual methods just give you the privilege to check error. These methods do not provide any solution. OST to PST Converter is an exceptional solution to recover data from OST file. You can save the recovered data in a PST file and access in Outlook.
---