Learn How To Remove Duplicates From Thunderbird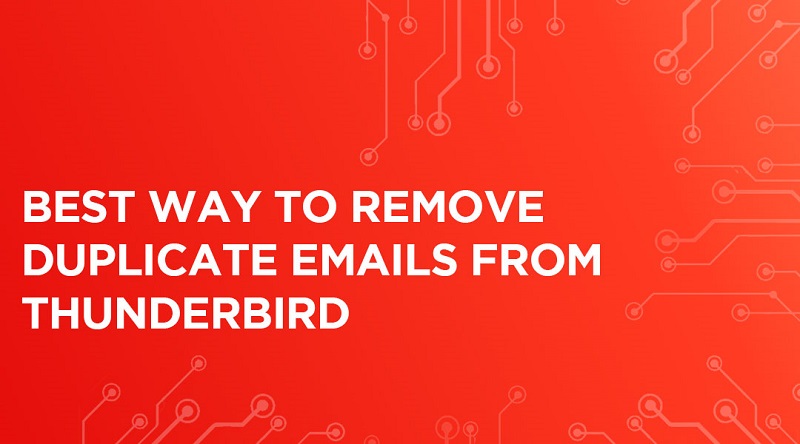 How To Remove Duplicates From Thunderbird
Thunderbird email client is among the popular and commercially used email client. Just like Outlook, Lotus Notes and other email applications, Thunderbird too has many user-friendly features that attract users. Presence of duplicate emails in Thunderbird email application is also possible and many users look for methods to remove duplicates. If you also have a query like how to remove duplicates from Thunderbird, then we have got you covered. Here is the step by step guide for the same.
Deleting duplicate emails, contacts, folders in a user's account is not a big trouble as these remains not in a large number. Moreover, it is easy to remove duplicate from a single user account manually. But when it comes to deleting duplicates from a large file, it is not only time taking but also there are chances of deleting important email.
Therefore, the best ways to remove duplicate from Thunderbird is taking the help of third party software. It not only ensures save removal of duplicate data but also quickly, which saves a good amount of time.
How Does Duplicate Data Get Through Thunderbird Mail Application
Having duplicate data in email file means, having single mail for more then one time. Presence of duplicate email doesn't make any difference normally, but it could become a reason of trouble when data need to be transferred from Thunderbird to any other application. Duplicate data will get transferred which will occupy space.
Before we suggest you methods to remove duplicate data from file. Have a look at the causes that leads to get through duplicate data in the file.
Accidently  By Users – If your Thunderbird account has more than one subfolder and you are copying data in some other folder without removing data from its original location, then it causes duplication.
Server Synchronization Issue – In desktop based email clients like Thunderbird, the email data first get stored on the server. Because of some error, the server starts behaving irrelevantly and cause problem. It starts downloading the same mail repeatedly.
Mistake By Sender – Sometimes sender also sends single mail for multiple times that leads to duplication.
Anti-virus – Sometimes anti-virus also leads to duplication in the mail file. It interrupts the program that leads to duplication.
Multiple Thunderbird Files – When you have multiple Thunderbird files, chances of duplication comes.
Methods To Locate and Remove Duplicates From Thunderbird File
Now that we have learned what are duplicated files, how to make its way in the mail application, let's check how to remove duplicates from thunderbird.
There are two methods present to remove duplicates the first it manual method, and the second is taking the help of duplicate remover software.
Manual method to remove duplicates from Thunderbird
1st step: Open Thunderbird email application on your PC
2nd step: Click on the tab 'Tool' and then click on 'Add-on'
3rd step: In the 'Tab Manager', click on 'Plug-in' present in the left sidebar.
4th step: Go to the search bar and type 'Remove duplicates' and press the enter button.
5th step: Find the option 'Remove duplicate messages', and then click on install button to add this add-on in the Thunderbird.
6th step: Once the installation done, click on 'Restart Now' option to restart Thunderbird.
7th step: For checking the activation of 'Add-on', repeat the whole process and click on enable my add-on option.
8th step: Return to the account section and right click on folder, and then click on the option 'Remove duplicates'
9th step: If there will be duplicates emails in the mail box, then a pop-up window appears stating the same. If not, then 'No duplicate messages found' message will appear.
10th step: If your Thunderbird mail application have duplicates, a window will open reflecting the number of mails present in it. It also show the deleted mails.
11th step: Select the option 'Delete selected' option present at the bottom of the window to remove all duplicates.
12th step: Once you will click on delete selected option, a messge will open to confirm. Then on Ok option then.
Limitations Of Manual Method To Remove Duplicate
Though the process of deleting duplicated mail seems simple but it is not exactly so, especially for those who are doing it for the first time. The process is time taking, and assures hundred per cent results. Moreover, one might need technical support in between to carry out the whole process. Moreover, there are chances that you might end up deleting important data via this process.
Use Professional Thunderbird Duplicate Remover Software
The Thunderbird Duplicate Remover tool is one of the best softwares for deleting duplicate data. It gives hundred per cent results without fault. Moreover, it is quick and has well explained instruction to help new users.
Addtionally, by using the duplicate remover software, you could remove duplicates from more than one Thunderbird file in single attempt.
Step By Step Guide To Remove Duplicate Data From Thunderbird
1: Lauch the software on your device. The software is compatible with Windows OS (all versions), therefore, use device having Windows OS.
2: Upload the Thunderbird file in software for duplicate removal. The software has three mode in it select folder having Mbox/Mbx files, select single/multiple Mbox/Mbx file and Load default Thunderbird directoty.
If you have not saved your Thunderbird data in MBOX format and want to remove duplicates directly, then click on the option 'Load default Thunderbird directoty'.
3 : At the next step, the software will give you two options to remove duplicates.
Remove duplicates across all Mbox/Mbx file – This will remove duplicates in all the folders and even outside the folder.
Remove duplicated within each Mailbox/Mbx file or folder.
Step Four: Select the Output path.
Step Five: Click on 'Remove duplicate email' button to remove duplicates.
Wait for sometime. The software will then present the number of duplicates present in Thunderbird file and will also share with you the resultant file having no duplicate data.
The Thunderbird Duplicate Remover software is a reliable and performing software that removes duplicates from Tunderbird file without giving you any error.
---