Solve the Error – OST File Won't Open in Outlook 2016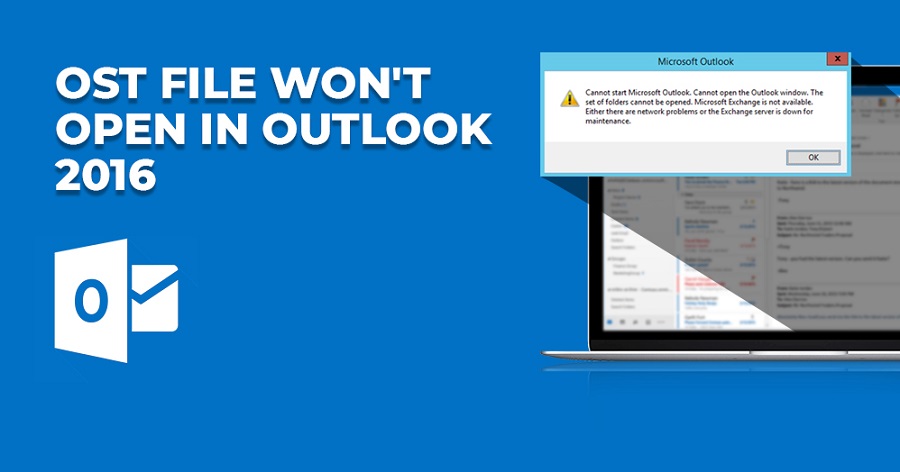 OST files are created by MS Outlook in MS Exchange server environ to allow Exchange users to access the mailbox data and work in the offline mode. At times, while accessing an offline OST file, users come across an error 'OST File Won't Open in Outlook 2016' This error majorly occurs when using Outlook 2016. The limit is not here, many other errors also make it impossible for users to open and access OST files conveniently.
Common OST File Errors in Outlook
The most common error is 'OST file cannot be opened'. However, many more errors make it difficult to access their OST file with ease:
Microsoft Outlook not responding
OST is in use by another application
The set of folders cannot be displayed
Default Outlook.ost is in use and cannot be accessed
The error mentioned above may occur due to inapt termination of Outlook, inappropriate OST files import, synchronization error between OST and MS Exchange and so many others. However, the most common reason behind the error is damage in OST file and makes it inaccessible with MS Outlook 2016.
Here, various methods can be used to repair severely damaged OST files to make them open them through MS Outlook.
Methods to Fix Error 'OST file cannot be opened'
Firstly, resolve the OST file trouble using manual methods and if error still occurs then restart your system or follow the below given methods:
Close all the Outlook Processes
By ending Outlook processes and restarting might sort out the issue. The steps to end Outlook processes are as follows:
Close MS Outlook application.
Go to the Task Manager and click 'Processes'
Scroll down and look for Communicator, Lync, Outlook, or Ucmapi Processes. If any of them are found, end all of them and restart your system
Doing so might sort the error that you are facing while opening OST file with Outlook.
Disable the Cached Exchange Mode in Outlook
You may try to disable the Cached Exchange mode in MS Outlook to fix the MS Outlook configuration in your system and then you might able to open. Follow the below given steps:
Close Microsoft Outlook application and go to the Control Panel
Click the 'Mail' option and choose 'Email Accounts'
Click the 'Email' tab
The Exchange Account will display on screen, click 'Change'
Next, you will find the 'Cached Exchange Mode' option, uncheck it.
Once the 'Cached Exchange Mode' is disabled, try to restart your system and access the OST file with it.
Disable the Outlook Add-ins
Though Add-ins provides extra functionality to an application, however, sometimes it could be problematic. Therefore, disable the add-ins if you are facing issues with the application. In order to disable an Add-in in Outlook, start Outlook in safe mode. Open Outlook in the safe mode, by typing 'Outlook/safe' in the Run dialog box, or else follow the steps given below:
Go to the shortcut icon of Outlook
Press and hold the CTRL button and double-click the application shortcut
A window prompt will appear on screen, click Yes to begin the application in Safe Mode.
Running MS Outlook in the safe mode will disable the add-ins and you can open OST file with ease.  If this succeeds, then remove the add-in permanently.
The above provided manual methods can fix the problem within OST file but if problem fails to sort out completely then fix the corruption matter.  As you have noticed that manual methods are tedious, tiring and time-consuming and above all there is no guarantee of sure recovery. So, you may look for some reliable and automated solution quickly.
OST to PST Converter is an advanced software solution to export data from OST files. By using this established utility, you can also repair your damaged or inaccessible OST files. Besides this, the software allows you to save data into various file formats such as DBX, MBOX, MSG, EML, TXT, RTF, HTML, etc. You can export OST files to Office 365 and Exchange Server as well.
In the Nutshell:
'OST File Won't Open in Outlook 2016' error is one of the common errors faced by Outlook 2016 users. Some users have technical mindset in solving errors but everyone isn't. So, the software will prove helpful and fast in fixing such errors. The software is far better than manual methods which eat up a huge amount of time.
---