Two Free Methods to Convert NSF Files into PST Files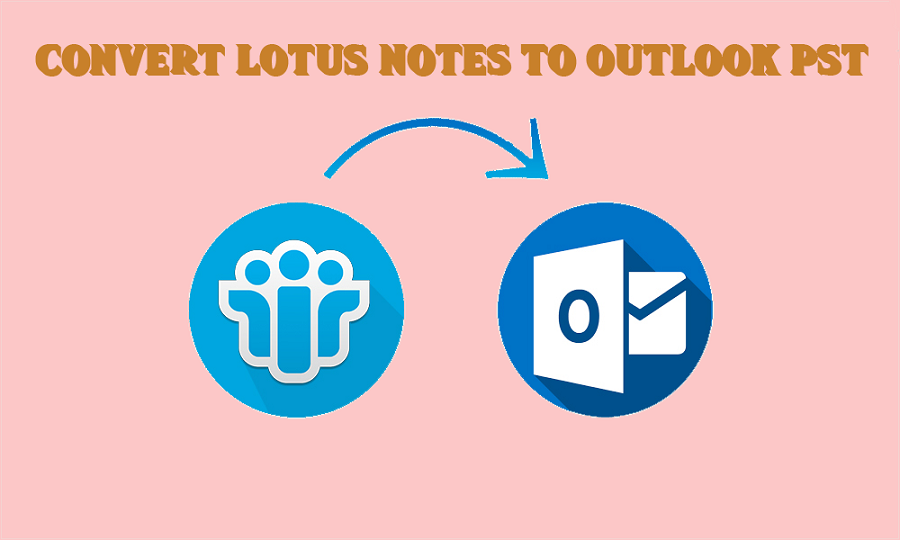 The two most used email applications are IBM Lotus Notes and Microsoft Outlook. Unfortunately, there are scenarios when users feel the need to change their email client from Outlook to Lotus Notes. To access NSF files in MS Outlook is not possible due to different database files formats. So, here is best  alternate NSF to PST Converter.
Let's check some of the possibilities to access Notes NSF files in Outlook:
Reasons to Convert NSF Files into PST Files:
Here are some of the post plausible reasons where need NSF to PST conversion needed, check them out:
Outlook is easy to maintain than Lotus Notes
MS Outlook is affordable as compared to Lotus Notes.
A novice user can use Outlook but cannot use Lotus Notes.
With Outlook, users can configure various accounts at the same time.
MS Outlook is user-friendly email application as compared to Lotus Notes.
Microsoft Outlook is an integrated application within Microsoft Office Suite but Lotus Notes is a standalone application
Outlook provides facility to access mailbox even offline whereas Notes does not.
Outlook provides better security features and data management practices as compared to Notes
New work environment is also the reason as new workplace has Outlook email application.
Why Convert NSF Files into PST Files?
It is absolutely clear that due to N number of reasons, user feel to convert NSF files in PST. It is difficult to access NSF files directly in Outlook because it uses different file formats to save the mailbox date. In order to access the entire email data, first convert NSF files in PST. Basically two methods are involved in this conversion-Manual and third party software i.e. NSF to PST Converter.
First Method: Manual Method to Convert NSF Files into PST Files:
Manual method is a free way out to convert NST to PST. While using this method, keep a backup copy of original NSF files, as files can get damaged due to manual conversion process. The manual conversion method comprises of two stages:
Stage 1: Export NSF files from Lotus Notes to CSV file.
Stage 2: Import the intermediate CSV file into Outlook.
These two stages consisted of certain steps, check out the procedure:
Stage 1: Export NSF files from Lotus Notes to CSV file.
Start IBM Lotus Notes.
Click File >> Open >> Louts Notes Application.
In the Open Application window, browse the NSF file and click Open.
After this, browse the required NSF file
Go to File menu and click Export.
On Export dialogue box, enter the File Name, File Location, and Saving Type.
Choose CSV format for the file.
A dialogue box CSV Export will open. Choose the required options from how much to export, Export Character Set and Detail to Incorporate sections. Click OK.
Select the required option
The exported data saved in CSV file and get saved in the defined location.
Stage 2:
Import the intermediate CSV file into Outlook.
Start MS Outlook application.
Then, go to File menu, click Open & Export, and then click Import/Export.
Click Open & Export
An Import and Export Wizard dialogue box will pop up. Select Import from another program or file from the options. Click Next.
Click Browse and choose the path for CSV file created earlier using the Export command of Notes. Select the options as per the need.
Choose the Outlook folder to save your exported data and Click Next.
Choose the given checkbox in the Import a file dialogue box and click Finish.
The data from the CSV file imported to Outlook.
Limitations of Manual NSF to PST Conversion:
The free manual NSF to PST conversion method is helpful in some stances but not in all. In fact, there are several troubles in using this method; some of them are given below:
Difficult method for a beginner
Fails to convert entire NSF data into PST
Due to manual method, error possibility exist
NSF files may get damage if not handled aptly.
Data loss or incomplete data conversion can be the situation.
Highly time consuming, as converts one NSF file at a time.
Second Method: Professional Software:
This method is a paid facility and aims at converting NSF files in PST
Lotus Notes to Outlook is an expert NST to PST conversion facility. This application saves NSF files in MS Outlook PST or Exchange Server directly. This software has several benefits over free NSF to PST tool. It gives the facility of NSF file in multiple PST files.  It is designed to migrate specific data using advanced filters option in the tool. The best thing about the software is there is no need to have the Lotus Notes installed on the user's system to carry out the conversion as it only needs NSF files for the conversion need. The free demo version can be used and experience the conversion and saving of 10 items per folder for free from each source mailbox.
Launch the downloaded and installed free demo version of the software for converting NSF files into PST. To add NSF files for the purpose of conversion, click Add File. Choose the multiple files for NSF to PST Converter. There is an option to split the converted PST files in various desirable sizes. Get the full preview of the selected email by clicking the Preview button. Once you view, export data into PST file.
NSF to PST Converter helps you to convert the PST file or else you can save in Exchange Server. The software also supports saving files into various other formats such as TEXT, HTML, or RTF as per the requirement.
Steps to Convert NSF in PST:
Run Lotus Notes to Outlook and click Add Local NSF file(s) to select NSF files. Add Local NSF File
Browse NSF files. Browse multiple NSF file
After selecting NSF files, click the Preview button to check the selected NSF file.
Click on Migrate option to migrate all added NSF files.
As soon as you click the Migrate button, saving options will appear on screen – Outlook PST and Exchange.
If you choose Outlook PST as the desired saving option, then browse the destination folder where you want to save the PST file. Click OK. Select PST as the saving option
You will get multiple options for selective saving:
You can Split PST file into the specified size (in MB or GB) to save data into multiple PST files.
Define a Date Range and insert the Start Date and End Date to convert NSF of that date range only.
Choose the categories that you want to migrate within Select Categories option.
Click ok
Now the file gets converted into PST format. You can view them now in MS Outlook application.
Lotus Notes to Outlook migration is a comprehensive tool that converts NSF files into PST files or saves to Exchange Server. This is the best alternative to the free NSF to PST converter. The tool supports all the versions of Exchange, Outlook, and Notes including the latest versions. It can be installed on Windows 10 as well.
---